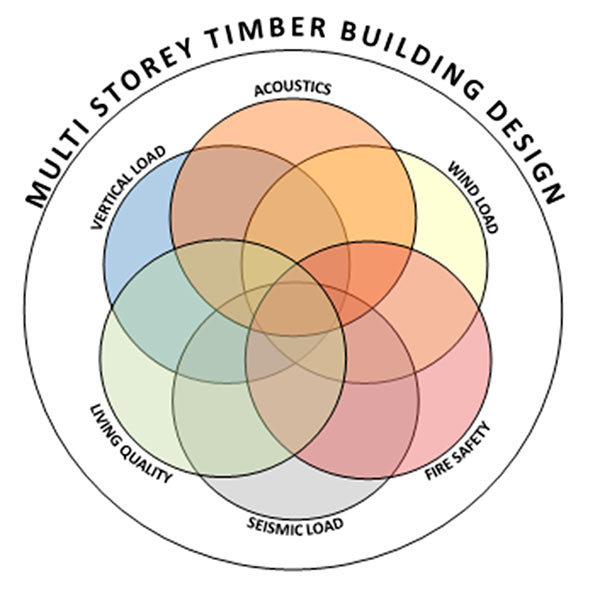 As part of DBI's efforts to promote the fire-safe design of bio-based buildings, several members of the Advanced Fire Engineering (Buildings) team are participating in the European COST Action CA20139 'Holistic design of taller timber buildings (HELEN)', which runs until October 2025.

COST (European Cooperation in Science & Technology) is an organisation that provides funding for research and innovation networks. COST Actions help connect research initiatives across Europe and beyond, and enable researchers and innovators to grow their ideas by sharing them with their peers.

The purpose of COST Action HELEN is to support the development of holistic and interdisciplinary approaches to the design of multi-storey timber buildings, balancing competing objectives and interactions between aspects such as fire safety, acoustics, sustainability, and reuse.

"Only through interdisciplinary analysis and interaction can a set of holistic design guidelines be developed that will enable safe construction of taller timber buildings, as well as respect human wellbeing demands" – COST Action CA20139 Memorandum of Understanding.

DBI researchers Ian Pope, Leo Willem Menzemer, Ahmed Ali, and Ana Sauca are members of Working Group 3 – Accidental Load Situations (including fire, blast, and earthquake). In this role, Ian, Leo, and Ali have already contributed as co-authors of a state-of-the-art review of the design of taller timber buildings subjected to accidental loads.

Ian Pope is also member of the Management Committee for the Action, as a representative of Denmark. Involvement of new members from industry and academia is highly encouraged, so anyone from Denmark who is interested in joining is welcome to contact Ian (ipo@dbigroup.dk) or apply through the COST website.

Further information about the objectives and outcomes can be found at the Action website.