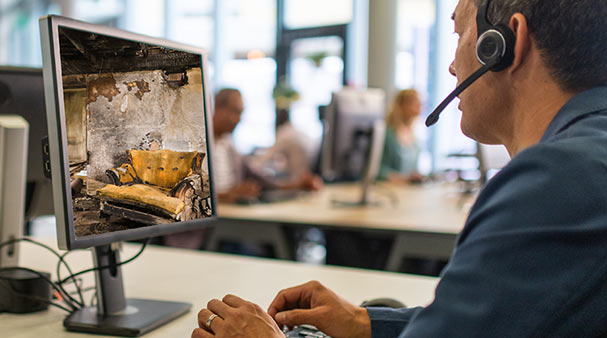 Save time with an online fire visitation
Often many traces have been destroyed or lost by the time a fire investigator arrives at the fire scene, because clean-up is underway. An online fire visitation can identify potential traces in advance, thereby ensuring that they are safeguarded, until an actual fire investigation is conducted.
At DBI, you have the option of booking a short session with a fire investigator, who will look at the fire scene with you via your mobile or tablet. This is somewhat like an expanded version of FaceTime.

You log in via an online system and film the fire scene, while discussion and feedback takes place with the fire investigator. Easy, time-saving and flexible – no matter where in the world you are. This allows for professional discussion, feedback and assessment from the very first minute, thereby safeguarding potential clues.

DBI can be present the moment a fire scene is handed over, when an appraiser or insurance investigator is inspecting it for the first time. The earlier the investigator can inspect the fire scene and check for potential clues, the better the basis for the assessment. This service is intended as a short introductory session of 10-15 minutes. Subsequently, it can be decided whether an actual DBI fire investigation is called for, with the fire investigator visiting the fire scene.