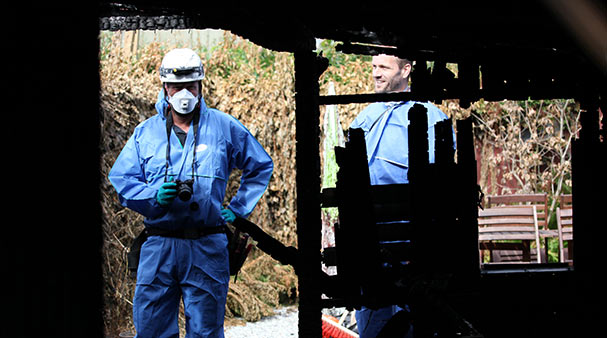 Fire investigations with DBI
A DBI fire investigation provides credible and impartial documentation about the origin and cause of a fire. This provides the best basis for decision-making in recourse cases.
In the context of a fire investigation, a DBI fire investigator visits a fire scene for two purposes: (1) to identify the origin of the fire, and (2) to detect the cause. To this end, DBI conducts investigations of buildings (both private and commercial), ships and vehicles, including cars, buses, lorries and agricultural machinery, to find out whether the fire resulted from, for example: an accident, recklessness, product defects, installation defects or maybe arson.
The investigation produces documentation of the scene in the shape, for example, of photos, sketches, floor plans or 3D photographs and a report with a conclusion. Depending on the technical evidence, the certainty of the conclusion varies. In some cases, it is possible to identify the origin and the cause; in others, it is possible to do so with various degrees of certainty; while in others again, it is impossible to conclude based on the technical evidence.