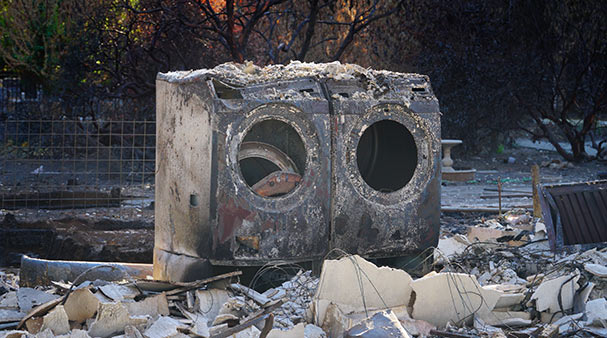 Feasibility study and investigation of burnt items
DBI conducts investigations of items suspected of having caused a fire, while a feasibility study ensures that resources are devoted to the right items alone.
When cleaning up a fire scene, you often find items – for example, a refrigerator or washing machine – that may have caused the fire. They can be submitted to DBI for further investigation.

Prior to the actual investigation, DBI conducts a feasibility study of the item. Quickly and for a reasonable price, the feasibility study indicates whether a proper study of the item would lead to a conclusion that could advance the case for the purpose, say, of recourse. This avoids wasting resources when such a conclusion is not drawn.
If, on the other hand, there is justification for an actual investigation, we then go ahead. The result is a report, which, as in the case of fire investigations with varying degrees of certainty, concludes whether or not the item caused the fire.
Inflammable products must be taken off the market. Therefore, DBI reports products that cause fire to the Danish Safety Technology Authority. So, any items suspected of causing fire should be submitted for preliminary investigation by DBI.